I made 171,428.79 USD of trading profit in 5 months.
Month 1 and 2 with a 200k USD account / 1-2% risk
Month 3 to 5 with a 400k USD account / 1-2% risk
Please feel free to scan the QR code for verification purpose.
Keep your goals focused on performance, not money!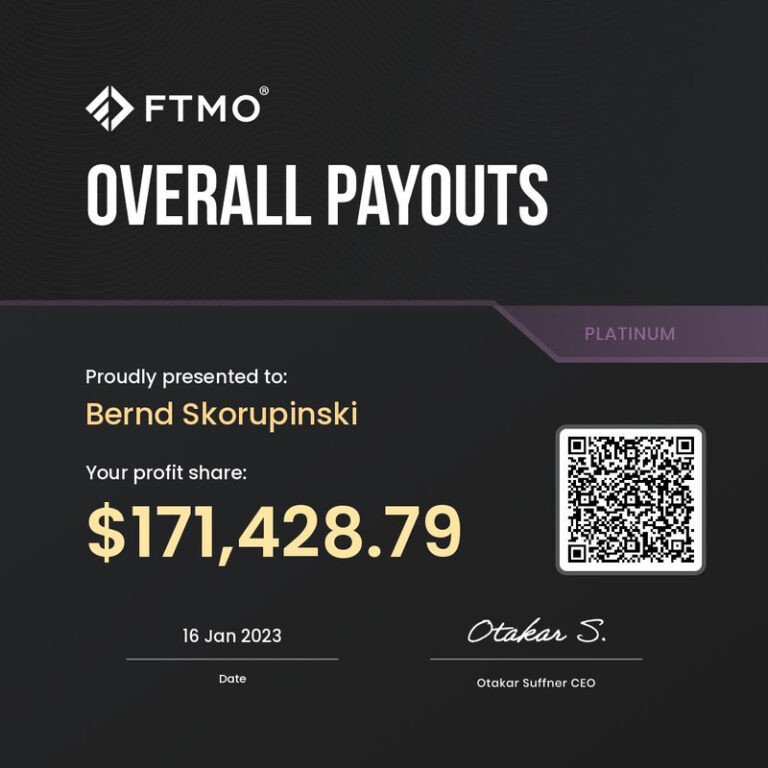 You heard that right!
You're a trader; you want to make money, that's for sure. But if you are truly going to experience change in the new year, of necessity, you must set goals that are not solely money oriented!
Yes, it may be tempting as a trader to come up with goals based on income rather than on performance, but trust me, it never helps to create good practices, only bad habits.
Don't say:
"I want to make $100,000 trading this year."
That's just an example of a bad New Year's resolution!
When you set a goal like this, in your attempts to meet up, you'll most likely compromise on the quality of your trades and dilly-dally in some not-so-good behaviors, which will not pay off at all in the end.
Instead, let your goals reflect improvements in your actual trading methods.
It's easy really, boost your performance, and the money will follow.
In fact, challenge yourself not to think about money and simply to think about trading decisions and positive returns.
A challenging task, yes. But one that'll surely pay off in the long run!
Focus on a positive, reliable return and less on the actual amount; you'll be happy you did!
Still on goals, we must add that even with performance goals being set, you must still track those goals.
Take time and check how far you've come, what your performance has been like so far, and then try to make an estimate–if you keep on going at this rate, at this pace, how likely are you to reach your goal?
Author Bio: Bernd Skorupinski teaches the undiluted truth about trading and investing at Online Trading Campus and takes you through what it takes to be a consistently successful trader. His favorite moment as a trading mentor is the way peoples' eyes light up with excitement and confidence when they understand how Supply and Demand trading strategy works and how it can help win in the trading arena. He believes in building core values and discipline that ensure his students do not succumb to the pressures and temptations of the market. He very much believes in following plans and strategy through. If you want to know more about the author Bernd Skorupinski please read HERE