My fourth month with FTMO will only end 28th of November and I am already ranked #1 on the overall FTMO global leader board!
So far, I made 67k USD (which is already profit split adjusted) in less than 4 month by only taking 1-2% risk per trade.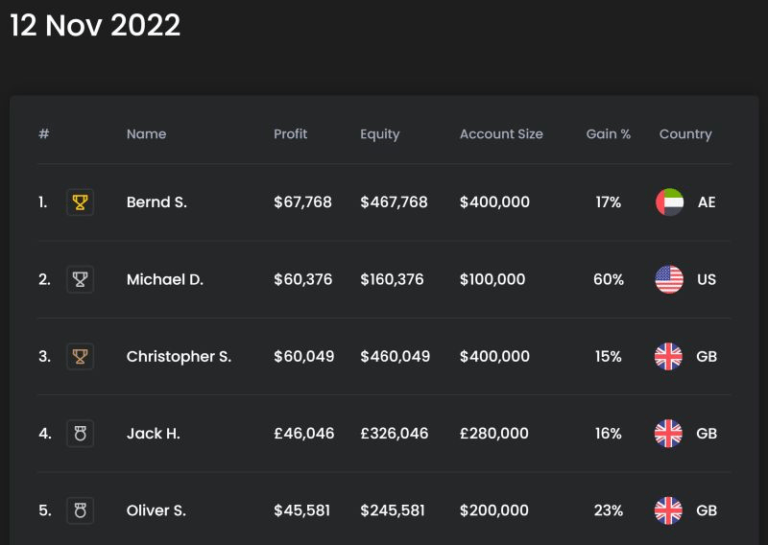 If trading were a race, it would be a marathon! Have you ever heard of the tale of the Tortoise and the Hare? The proverbial race between the Tortoise and the Hare is a beautiful tale to pick trading lessons from traders that start all fast and excited are like the Hare. The Hare was only arrogant and overconfident; he then got lazy along the way. The Tortoise however continued on the same pace being steady and consistent with his pace. The Tortoise won the race because consistency will always beat initial excitement.
In trading, the steady and consistent player always wins. If you start too fast and too excited, you'll make a lot of costly mistakes and bad decisions, which invariably burn your money and resources. The slow guy, however, takes his time and gradually he passes by the overly excited but careless guy.
How to become an expert at anything?
It is common knowledge that it takes a considerable amount of time to master any skill at all. It takes consistency and hard work to be good at anything at all. There are specific details of what it takes to become an expert trader, and we want to help you understand that.
You have probably heard of the 10,000 hours rule, which states that you need at least 10,000 hours of practice before you become an expert at anything. A group of scientists has, however, proven that to be inaccurate, as the time per person will differ based on a variety of reasons and factors.
The fact, however, is that it takes a considerable amount of time to become an expert at any field at all. Take professionals like doctors, or lawyers or professors; for example, they dedicate quite a number of years to their field before they become experts that we admire. Money only starts coming in after they have dedicated several years to studying and have started their careers, plus they never stop learning.
Are you disciplined enough to do the right thing even when no one is cheering or welcoming? All successful traders are extraordinarily self-disciplined and willing to learn. You should develop working integrity, whether you are being cheered or not.
Author Bio: Bernd Skorupinski teaches the undiluted truth about trading and investing at Online Trading Campus and takes you through what it takes to be a consistently successful trader. His favorite moment as a trading mentor is the way peoples' eyes light up with excitement and confidence when they understand how Supply and Demand trading strategy works and how it can help win in the trading arena. He believes in building core values and discipline that ensure his students do not succumb to the pressures and temptations of the market. He very much believes in following plans and strategy through. If you want to know more about the author Bernd Skorupinski please read HERE