I made $ 93,281.52 of profit in 4 months only. I received the PLATINUM certificate which is the highest FTMO achievement. I accomplished these results with a $200k (Aug & Sept) and a max allocation $400k (Oct & Nov) account taking 1-2% of risk per trade.
Consistent trading and investing success requires following rules!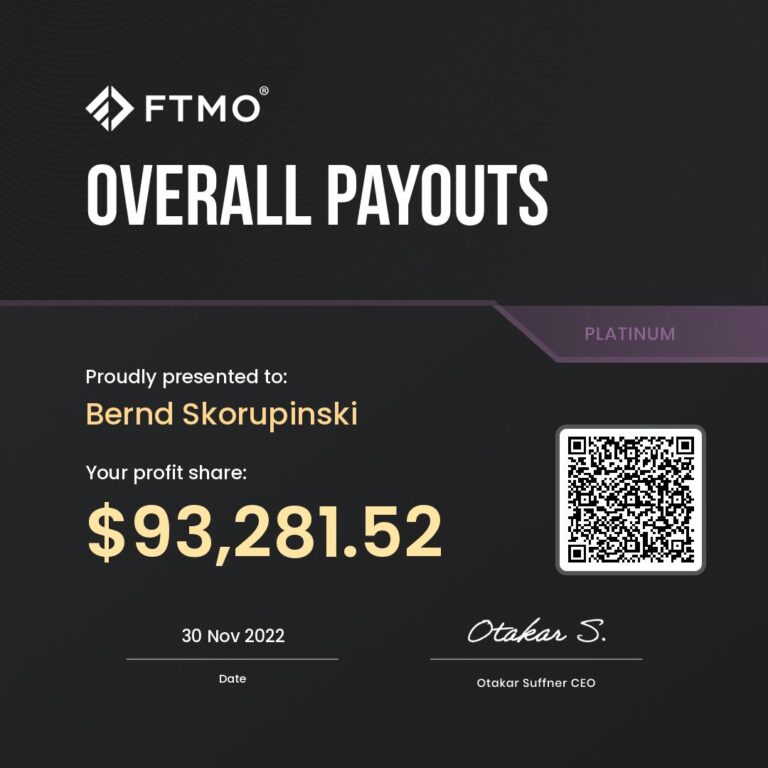 Positioning yourself to become a consistently successful trader and investor is a methodological and orderly trading process, which necessitates formulating strict rules and committing to them. To be very honest, this is a difficult hurdle to cross. Why is this? You might ask. Well, it implies that you must develop self-discipline. Similarly, it also means that you must be accountable for all of your results.
A definition of rules says it is a procedure or governing action.
Considering "governing action," you will discover that it encompasses the way that rule-oriented trading and investing relates to results-oriented trading and investing. And this is because of the importance of rules to trading processes. Technically, trading without rules or flaunting your rules means you are intentionally putting your money to risk based on nothing but HOPE. It is safe to say trading rules govern because they represent the procedures and parameters of your emotions, thoughts, behaviours, setups, strategies, stops, entries, exits, trade management, and money management. Hence, the difference between being successful and blowing your account is your properly schemed rules.
Is your trading and investing strategy based on HOPE?
Author Bio: Bernd Skorupinski teaches the undiluted truth about trading and investing at Online Trading Campus and takes you through what it takes to be a consistently successful trader. His favorite moment as a trading mentor is the way peoples' eyes light up with excitement and confidence when they understand how Supply and Demand trading strategy works and how it can help win in the trading arena. He believes in building core values and discipline that ensure his students do not succumb to the pressures and temptations of the market. He very much believes in following plans and strategy through. If you want to know more about the author Bernd Skorupinski please read HERE
Why Online Trading Campus
Online Trading Campus is for individuals who want to excel in the profession of trading and investing in financial markets.
Our online trading academy provides a complete education and training experience focusing on all aspects of trading and covering almost all trading instruments. We cover the full spectrum of trading styles and asset classes from short-term trading, swing trading, long-term investing for stocks, exchange-traded funds (ETFs), contract for difference (CFDs), cryptocurrency, futures, and forex.

www.onlinetradingcampus.com