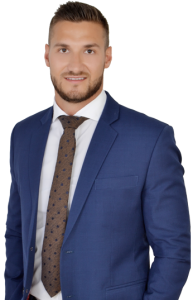 Trained by former CME floor trader
Jan Skorupinski is a graduate from Notre Dame College in Cleveland, Ohio. During his studies in the U.S., Jaguar Land Rover MENA became aware of his quality. He relocated to Dubai after he graduated and was then hired to work in the Product Marketing Department for Jaguar Land Rover in the Head Office in Dubai. Jaguar Land Rover is a historical brand with a lot of brand equity. However, with the new acquisition by TATA, JLR was trying to re-invent its status in society and increase sales through new product launches. Jan was able to successfully launch and determine a suitable and competitive market equation and price for multiple new models, including the Range Rover Velar.
During his career as a corporate executive, Jan became attracted to the world of trading and investing in the financial market. Through his corporate Job, Jan learned that there is a general need for commercial improvements and overall market equations in every aspect of a business. Being able to improve a companies market equation, Jan was now looking for ways on how to improve his finances.
Looking into improvements in cash-flow, savings, and costs, it was clear that the solution was not: More time at job equals more cash flow. Instead, Jan needed to find additional sources of income to improve his finances, including long-term wealth and security. Therefore, creating other income streams and financial diversification were some of the critical reasons why Jan decided to start actively investing in the financial markets.
Jan did not want to be an average investor and follow the herd because he also knew that investing was an incredibly difficult skill to master. Jan was aware of a lot of people in his family and surroundings that lost a lot of money in the latest financial crash, the housing bubble of 2009. Therefore, his first goal in investing was to receive professional education so that he can protect his hard-earned capital from every eventuality. Furthermore, his drive for excellence helped him recognize the fact that he couldn't succeed in trading without proper education and guidance. He didn't quit his automotive job immediately. Instead, he decided to learn from an online trading academy, which allowed him to learn at his own pace. This allowed Jan to juggle both learning and mastering the skill of investing as well as the corporate world.
Three years into his corporate life, Jan decided to quit his job to become a full-time trader.
"Without a mentor, I would not stand where I am standing today. I have learned that you cannot audit your own beliefs. Therefore, a mentor is necessary for long-term success."-J.S.
Jan's teaching style is extremely professional. His attention to detail and the individual needs of each student to customize their learning journey is respected across the entire student body. Student's feedback can be seen below and on the landing page.
Milos Curcic – "Decision for mentoring program with OTC was one of my best in last few years.Having first real introduction into stock market less than month ago, my level of understanding and progress in just few weeks is overwhelming. If trading is rally, Jan is perfect co-driver (navigator) who is leading me safely thru bends allowing me to follow my own pace. Mentoring sessions are not about someone else reading presentation for you, they are about being safe while making mistakes and learn faster. Highly recommend."
Mansour Almazrouei – "I recommend the Campus for everyone who is interested in trading and investing. It is very impressive to watch both, Jan and Bernd, trade live and predict major market moves before they happen. Week after week they share their trades setups and the results – this is transparency."
Mahir Kaya – "With the 'set and forget and get a life' approach I can master trading without sacrificing my current lifestyle. Copying Bernd's and Jan's trade setups during their daily live trading webinars allows me to earn while I am still learning. I can only recommend OTC to everyone!"
Since the launch of Online Trading Campus in January 2019, Jan has already predicted some major market moves. Campus students can copy his trading ideas, following his weekly live trading webinars. Some of the trade ideas include this year's monster rally in Silver, where he predicted the low of 2019. But also, substantial double-figure percentage market moves in Natural Gas, Crude Oil, Treasury Notes and Bonds, as well as currencies like Canadian Dollar.
Back in 2017, Jan announced a significant buying opportunity in S&P500 Futures at S&P500 Futures price 2,364.5. This trade idea was triggered in the 4th quarter of 2018 when S&P500 dropped close to 20% in 3 months. Jan predicted the bottom of this crash. Today, this equates to a 28% gain of S&P500 prices ever since his trade idea was triggered. The live trading session from 2017 was recorded and is still accessible on Youtube to watch. Feel free to check out his full trade ideas on his blog or on the landing page.